The Fastest, Most Accurate

Interferometry-Based Non-Contact Measurement System in the World
0.2 SEC/CM²
SCANNING SPEED
50 LINES/SEC
HIGH-DENSITY SCANNING
25 μm + 6
μm/m (2 sigma)
3D ACCURACY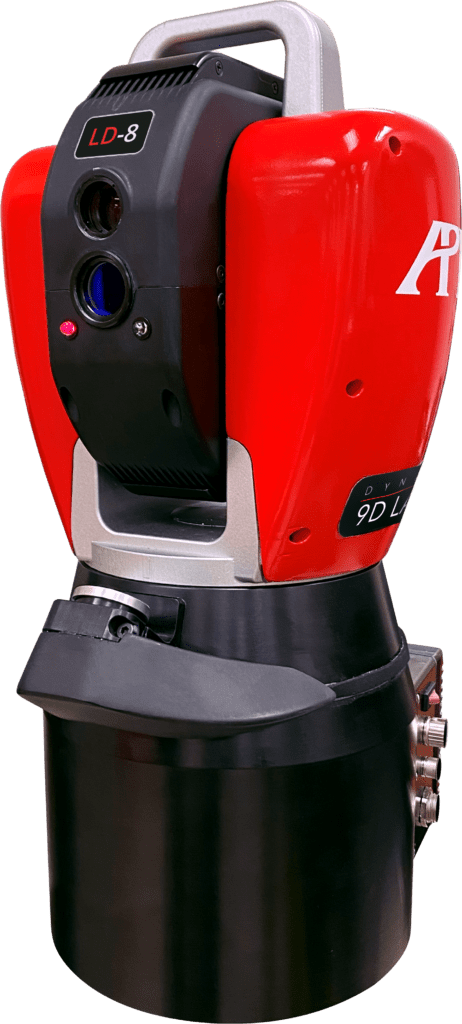 The Dynamic
9D LADAR
is available in 3 ranges: LD-8, LD-15 and LD-25.
THE
Fastest, Most Accurate

Interferometry-Based
Non-Contact Measurement System in the World
API's compact and rigid UNIBODY tracker design allows for shaft mounted motors, encoders and laser. The UNIBODY shaft mounted laser innovation minimizes Abbe offset errors, while also housing laser source, optics, camera and major head electronics in the center of the tracker body.
QUICK & EFFICIENT WARM-UP TIME
The UNIBODY, and the centering of all heat sources, allows rapid distribution of heat throughout the body during warm-up or drastic ambient temperature variations' ensuring the tracker body maintains constant heat equilibrium throughout its operation resulting in shorter warm-up time and superior measurement stability.
9D LADAR is a breakthrough technology, set to revolutionize automated production measurement. The patent-pending 9D LADAR is the fastest, most accurate interferometry-based non-contact measurement system incorporating Optical Frequency Chirping Interferometry (OFCI) technology.​
LAser Detection and Ranging
9D LADAR captures both dimensional and surface geometry data targeting all manufacturing industries including but not limited to; automotive, aerospace, ship building, energy, transportation, machine tool, robotics and construction.
LADAR

VS.Conventional Laser Radar​
DYNAMIC 9D LADAR provides micron-level resolution while eliminating issues associated with surface reflectivity, slow data acquisition speeds, limited accuracies, restrictive incident angles, and susceptibility to production environment noise.​
Laser Radar systems require large sample averaging to obtain reasonable accuracy, effectively slowing data rates. API's OFCI technology uses fast laser chirping to generate a wide spectrum for optical interference. The interference signal detected yields 100x higher sensitivity than Laser Radar.​
Optical Frequency Chirping Interferometry
50 lines/sec – 0.1mm spacing
Linear: 20 µm + 2 µm/m (2σ)
Measurement of translucent objects
CONVENTIONAL LASER RADAR SYSTEMS
Frequency Modulated Coherent Laser
500 pts/sec - 1,000 pts/sec max
Inability to measure translucent objects
Dynamic 9D LADAR is a breakthrough technology, representing the fastest, most accurate non-contact measurement system in the world. 9D LADAR's rapid, accurate data collection in real-time is set to revolutionize automated in-line production measurements and obsolete exiting conventional Laser Radar systems that require large sample averaging to obtain reasonable accuracy, effectively slowing data acquisition rates.
The compact size and light-weight design of API'S 9D LADAR allows the instrument to be taken directly to manufacturing locations, allowing automated measurement to be performed quickly and with minimum set-up times. Measurement variability using current manually operated tactile and optical measuring devices are eliminated with execution of all measurements automatically. Existing third-party metrology software's can be utilized for data reporting, minimizing learning curves and ensuring seamless integration into existing measurement practices and data analysis.
Non-contact Laser Radar technology has proven its ability to measure automotive parts including full 'Body-in-White', as a replacement for CMM measurements adjacent to production lines providing both external and internal measurements of vehicle body regions. 9D LADAR precision automated high-speed 'raster' scanning provides both surface geometry point cloud data collection as well as 'gap and flush' dimensional data. The new API 9D LADAR delivers the fastest ever laser measurement solution dramatically increasing measurement throughout and productivity for all automotive applications.
Optical CMM– small to large volume, simple to set up, fast and accurate
CNC Machine In-situ inspection
In-line inspection and dimensional control for aircraft, automobile, wind energy or similar industries​
Flush and Gap
Part Measurement
Jigs, Fixture & Tooling Inspection
Reverse Engineering
Robotics
X,Y,Z – I,J,K and R,G,B Dimentions 
Ingress Protection Rating
LD-8: 0.5m to 8m | LD-15: 1.0m to 15m | LD-25: 1.5m to 25m
Azimuth: +/- 320° | Elevation: 46° to 69.4°
Maximum Radical Velocity 180°/sec | Maximum Radical Acceleration 180°/sec
10" (254mm) x 17" (432mm)
20,000 Points/Second | 50 lines/second(vertical scans)
8 MP Digital Zoom (15fps) | Feature Recognition | FoV - Horizontal 17° Vertical 13°
Measuring: Class 1 (Wavelength 1550nm)