METROLOGY MEASUREMENT
API EQUIPMENT AND SERVICES
MEASUREMENT & INSPECTION
SOLUTIONS
RADIAN SERIES
LASER TRACKERS
API's Laser Tracker legacy continues with the latest Radian series offering the lightest, most compact and accurate trackers available
LASER TRACKER TARGETS
Maximize laser tracker productivity with hand held and automated tracker targets.
SCANNING & INSPECTION
API's offers a range of portable measuring and laser scanning solutions together with robot or tripod mounted 3D structured light scanner.
PORTABLE CMM ARMS
API's premium range of cost effective portable scanning arms offer accurate reverse engineering and production measurement solutions.
3D LASER SCANNERS
With unsurpassed accuracy and scan quality API's Hemispherical Scanner is ideal for use Building Information Modeling (BIM), historical preservation and forensics.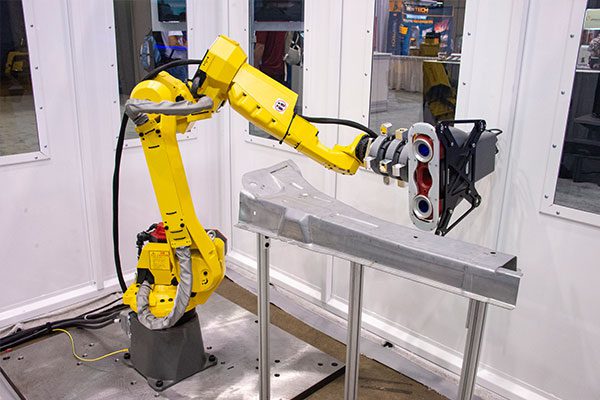 RAPID SCAN
Able to scan difficult high contrast surfaces with ease API's RapidScan sensor can be robot mounted for production measurement or tripod mounted for manual data collection offering feature extraction from generated point.
MEASUREMENT SERVICES
API offers on-site dimensional inspection, 3D scanning, machine tool and robot error mapping and calibration, laser tracker calibration/verification.
ROBOT CALIBRATION
API's unique calibration equipment and software can dramatically improve robot accuracy resulting in process improvements.
3D BIM CONSTRUCTION
API's 3D BIM construction services help customers plan, design and construct buildings and infrastructure.
MACHINE TOOL CALIBRATION
API's expert staff specialize in aligning, calibration and error correction of multi-axis CNC machine tools.
INSPECTION & ALIGNMENT
API offers inspection & alignment services to Aerospace, Automotive, Shipbuilding, Energy and Defense Industries.
REVERSE ENGINEERING
API provides accurate transformation of prototype and historical components into 3D CAD data reflecting actual design intent.
EQUIPMENT RENTAL
We provide affordable metrology rental solutions. Equipment can be rented daily, weekly, or monthly. Rent-to-own programs available